(David and Lynda Jones)
B

eing a senior does not mean we stop living, but rather living in the stage of life we are in.
The senior adult group is striving to make our Christian lives meaningful and give us a feeling of purpose as we serve the Lord together and fellowship with each other. Activities include a monthly meeting on the third Thursday of each month at the church building with guest speakers on relevant issues, devotions, food and fellowship; a card ministry; and other social activities. Other ministries are being evaluated.
NEXT EVENT:  There will be an organizational meeting at 11:30 on Thursday, October 19, at Spring House Restaurant on Bypass 17 in Murrells Inlet.  If you have anything you would like to present to the "Seniors" that would be great. This will be a "brain storming" session, for activities and service projects for 2018.  Come and enjoy the company, food and get to know someone new or reacquaint with others.
PICTURE GALLERY: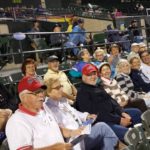 Pelicans Ball Game April 2016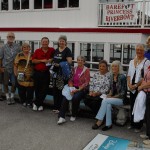 Dinner Cruise Fall 2015