(Nick & Lindsey Pritchard)
The children's ministry is for all children in grades K-5. The ministry is designed to build faith and relationships among our children by offering a variety of programs. Areas of involvement for this ministry include:
Staffing the nursery during Sunday morning assembly
Leading or helping with Children's Bible Time during Sunday morning sermon (ages 3-2nd grade)
Teaching or assisting with Vacation Bible School
Working with Leadership Training for Christ (LTC)
Participating in extracurricular activities (Easter egg hunt; Christmas with Santa, etc.)
Helping with camp clean up (we clean a cabin at Palmetto Bible Camp each summer)
Assisting with service projects
Upcoming Events for K-5:
K-5 Children: K-5 Christmas luncheon will take place on Sunday, December 3, immediately following morning assembly. Families can sign up in the members center
SERVICE EVENT: Caroling at National Health Care on December 9. Meet at the church building at 3:30 pm. All youth K-12, parents, volunteers, church members, and family members are welcome to participate. We will hand out cheer gift baskets and sing Christmas carols to the residents and staff. For anyone interested in donating items for the gift baskets, a suggested list follows: Small packages of tissues; puzzle books and pens; wrapped hard candy/mints; travel size lotions; small stuffed animals. Donations may be given to Laurie Fields or Blake or Corrie Lawson.
PICTURE GALLERY: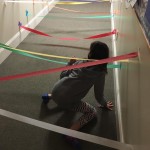 Game Night Jan 2016
At the ball game Feb 2016
LTC fundraising luncheon
Easter Egg Hunt 2016