(Nick & Lindsey Pritchard)
The children's ministry is for all children in grades K-5. The ministry is designed to build faith and relationships among our children by offering a variety of programs. Areas of involvement for this ministry include:
Staffing the nursery during Sunday morning assembly
Leading or helping with Children's Bible Time during Sunday morning sermon (ages 3-2nd grade)
Teaching or assisting with Vacation Bible School
Working with Leadership Training for Christ (LTC)
Participating in extracurricular activities (Easter egg hunt; Christmas with Santa, etc.)
Helping with camp clean up (we clean a cabin at Palmetto Bible Camp each summer)
Assisting with service projects
Upcoming Events for K-5:
K-12 MOVIE EVENT: If you are a Kindergarten- 12th grade student, please make plans to attend this fun event before school begins! On Friday, August 11th students will get together and enjoy a summer movie marathon.  The first movie will begin at 4:30 with dinner after and then the next movie will begin at 7:15.  Pick up is around 9:00 pm.  Please bring a blanket and a movie (G or PG only).  Text Blake if you plan on coming.  His number is 205-420-1211
ANNUAL BACK TO SCHOOL BASH: Please mark your calendars for Saturday, September 9th.  Our annual Back to School Bash will begin at 2:00 pm.  This is always a wonderful time for families to celebrate our children starting back to school.  More details coming soon!
PICTURE GALLERY: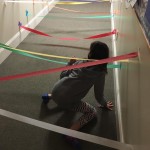 Game Night Jan 2016
At the ball game Feb 2016
LTC fundraising luncheon
Easter Egg Hunt 2016